Chris Russell , Chief of Police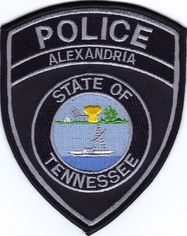 IN CASE OF EMERGENCY - DIAL 911
In a non-emergency situation you may call the Dekalb County Dispatch Center at:
615-215-3000

---
---
Alexandria Police Department is located at:
102 High Street
Alexandria, TN 37012
615-529-2700

Ticket Information
For ticket information, or to reach the Court Clerk dial 615-529-2700 ext.202
You may appear in court at the date and time shown on your citation for trial, however if you wish to plead guilty to said offense(s) you may send a MONEY ORDER or CASHIER'S CHECK ONLY!
No cash or personal checks will be accepted.

Mail payment with a copy of your citation to:
Alexandria Police Department
P.O. Box 277
Alexandria, Tn 37012
Attn: Court Clerk, Jessica Cripps


PAYMENT MUST BE RECEIVED BY THE COURT DATE OR A FAIL TO APPEAR WILL BE ISSUED WHICH WILL RESULT IN THE SUSPENSION OF YOUR DRIVER'S LICENSE BY THE STATE OF TENNESSEE,
AS WELL AS FURTHER FINES.


DRIVING SCHOOL INFORMATION
If you have NOT had a citation OR attended another Driver's Safety School in
the past TWO (2) years you may qualify for school.
The cost of Driver's Safety School is $130 and is payable at the time of class.
Cash, Money Order or Cashier's Check are the ONLY accepted method of payment for driving school.

To register for class please call on Tuesday, TWO (2) weeks before your court date.
615-529-2700 ext. 202
You are not required to appear in court if you register for DSS.